From 15 April 2016 up to 40% on particular models of thermal cameras Flir, and a brand-new compact model Flir C2 is available for order.
Attention! The compaign has been extended until December 31, 2017!
Dear customers! Pribortorg Co. Ltd. has been supplying temperature measuring instruments for more than 18 years. We can state with confidence that Flir Company is one of the world leaders in the sphere of thermal imaging equipment. Flir thermovision cameras gained popularity due to wide functionality, high quality, reliability as well as informational and service support throughout the period of operation of the instrument.
We are glad to announce two beneficial shares of this producer.
1. 40 % DISCOUNT ON PARTICULAR MODELS OF THERMOVISION CAMERAS.
A great opportunity for all everyone who has thought of buying a thermograph. In the period from April 15 to September 30, 2016 the prices on thermovision cameras Flir E60, Flir E60bx, Flir E5 and Flir E6 are reduced.
| | | |
| --- | --- | --- |
| Thermovision cameras Flir E60 and Flir E60bx | Thermovision camera Flir E5 | Thermovision camera Flir E6 |
| | | |
| Flir 60 is perfect for the diagnostics of electrical equipment and  technological objects. The resolution of 320 x 240 points (or 76 800 pixels) allows to see even small details in infra-red light, and temperature sensitivity of 0.05 C allows to keep track of the least changes in temperature. Manual focus option and MSX function make the image contrast and clear. As a result you'll get a powerful and reliable instrument, introduced in the State Register of measuring instruments of Belarus. | Flir E5 is designed for fast detection of overheat of mechanical and electric equipment in the range of -20 - 250 C and with the temperature sensitivity of 0.1 C. Flir E5 is a reliable and easy to operate certified means of measurement from he world leader in production of thermovision equipment. Thus the instrument  has a very attractive price. | Flir 6 as well as Flir E5 is designed for fast detection of overheat of mechanical and electric equipment. However Flir 6 is next step in the model line of E series. It has higher infrared resolution (19 200 pixels compared to 10 800 pixels) that allows to take clearer pictures and see smaller details. Also Flir E6 has 0.04 C higher sensivity. |
2. A BRAND-NEW THERMOVISION CAMERA FLIR C2 IS AVAILABLE FOR ORDER.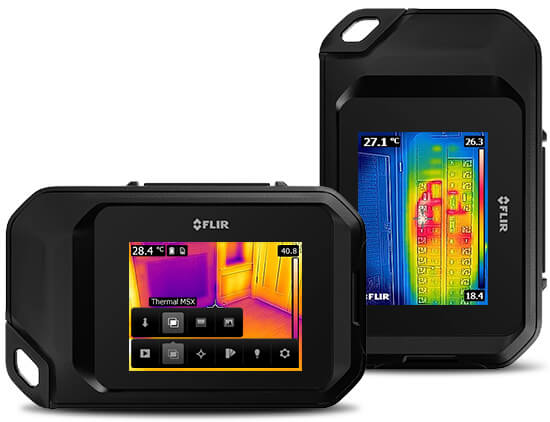 Flir C2 is a new portable model of professional thermovision camera. The device is specially designed to make high-quality more accessible and convinient. The model is compact, it easily fits in one's pocket but has a wide viewing angle and allows to obtain high quality images. Please note that it is now possible to obtain an increased warranty on this model. Buy a thermal camera Flir C2 and register it on the official website of the company during the period from April 15 to September 30, 2016 - and you will receive a full warranty for 3 years! The share applies to all thermal cameras registered on the site during this period.
For advice and further information please contact our sales team.