Contents:
What is a multimeter? The history of the instrument
Perhaps the very first question a beginner radio enthusiast asks is what is a multimeter. So let's start with the definition.
Multimeter is a multi-functional electrical measuring instrument. Its main function is measuring of characteristics of electric signal.
Multimeter combines functions of an ammeter, a voltmeter and ohmmeter as well as other electrical measuring instruments.
It is a standard and widespread device used to accomplish different tasks: diagnostics and repair of vehicles, assembling and setting up of electric systems and equipment in buildings, production of electronic goods, metrological inspection of measuring instruments.
The year of birth of the multimeter is 1920. British engineer Donald Macadie maintained postal communication system and had to carry a heavy bag of instruments every day. Macadie combined three main instruments in one device called "avometer" (alias "ampervoltmeter" or multimeter).
In the Soviet Union multimeters became widely used and popular with the advent of "tseshka" (C series). "Tseshka" is an analog multimeters that could work even in conditions of strong electromagnetic fields. The operating principle of the switch mechanism of such a tester is based on the flow of electric current through a moving coil which magnetic field interacts with the field of a permanent magnet, which deflects the arrow. These devices had incredible reliability and endurance and were produced in different variations from the late 50's to the early 90's by many instrument-making plants.
Main functions and features of multimeters
Main functions of multimetes are
measuring of voltage of direct current and alternating current,
measuring of direct and alternatig current,
measuring of resistance, electrical capacitance and inductance,
Simple budget models have a small set of functions that are sufficient for solving basic common tasks: checking the conductors, continuity of the circuit, measuring the voltage in the socket or the battery level of the car.
The set of additional functions of the multimeter depends on the purpose of the instrument. Modern multifunctional models carry out testing of diodes and transistors, measurement of frequency and temperature. Professional multimeters are able not only to make direct measurements, but also to calculate a number of indicators - the duty cycle, conductivity, true RMS values (True RMS function).
If we consider ZEN line of multimeters produced by UNI-T, then the widest set of functionality is presented in the model ZEN-MM31-13, combined with the highest measurement accuracy. Also, ZEN-MM31-13 is distinguished from most other multimeters by the following unique performance characteristics:
rubberized non-slip cover providing additional protection;
extended complectation (bag, probes, adapters, temperature sensor, software);
powered by a rechargeable battery;
double insulation and compliance with the international standard of electrical safety (CAT IV 600V);
high accuracy of readings (5 ½ digits);
contrast EBTN-display with additional illumination;
built-in indicator of concealed wiring.
Types of multimeters
Multimeters are divided into two types depending on the way the indication is displayed: analog and digital.
Analog multimeters are multifunction electrical measuring instruments with indication by means of an arrow (analog) scale.
Advantages of analog multimeters:
Possibility to carry out measurements at low temperatures down to -30 ° С.
Fast operation with a large amount of measurements, when high precision is not required.
Do not require power consumption from the built-in power supply in the mode of voltage and current measurement.
Instant display of the dynamics of the signal change.
Disadvantages and features:
Non-linear scale and setting zero before starting measurements.
Absence of automatic detection of voltage polarity.
A small set of functions: most models can measure only DC and AC voltage, DC current and resistance.
Low input resistance and, consequently, a high error in low-voltage measurements.
Sensitivity to mechanical damage, vibration.
Digital multimeters are modern, reliable measuring devices characterized by high measurement accuracy and various functional capabilities. Digital devices have replaced analogue in connection with the possibility of wide application of semiconductor technologies. Today most of the produced multimeters are digital. Specialists working with electrical equipment, if necessary, can choose among the digital multimeters a model focused on a specific task.
Advantages of digital multimeters:
Maximum possible measurement accuracy.
Automatic polarity detection: If the probes are connected incorrectly, the correct values with a minus sign appear on the screen.
Possibility of automatic and manual selection of measuring ranges.
Multifunctionality.
Does not require mandatory zero adjustment.
The accuracy of the meter reading does not depend on the battery charge.
Resistance to mechanical damage.
The ability to record measurement results in memory and synchronize with a PC.
Digital multimeters can be classified by number of digits, accuracy class, size, protection class, availability of additional functions or other parameters. For example, the line of multimeters ZEN, depending on the size and purpose of models is divided into 4 groups:
1 - compact,
2 - medium-sized (standard),
3 - large portable,
4 - bench.
More information about ZEN multimeter range can be found in the article.
Designations on the multimeter
Answering the question, what is a multimeter, we will consider the external panel of the device in more detail. The symbols and controls for digital multimeters may vary depending on the model. As an example, let's look at the notation on a high-level digital multimeter - ZEN-MM31-13.
The front panel of the digital multimeter consists of 4 main units:
LCD display for displaying the readings,
Buttons for selecting functions,
Rotary switch with designations for selecting primary measurement values,
Input sockets for connecting probes and other test leads.
Let's consider the blocks in more detail.
Display block:
1 - LED indicator (red / green - indicates battery discharge)
2 - LCD display (the display shows the received data)
Block with function buttons:
3 - STORE: button for storing data in the device memory, the STO symbol is displayed on the screen, when long pressed, the automatic storage settings menu is opened
4 - Delete / RANGE - delete all data / switch the manual measuring range5 - 5 - HOLD has three values:
single press - hold (hold) the data on the display ,
press again to enter the default measurement mode (Esc),
pressing and holding - switches the display backlight settings to the switching mode .
6 – REL: switching on the mode of measuring relative values
7 - RECALL: viewing stored data
8 - MAX MIN:
single press - displays the minimum and maximum values of the measured signal,
press and hold to turn on the Peak Hold mode to determine peak values when measuring voltage or current.
9 – Hz %:
pressing and holding the button turns on the Setup mode - entering the system settings menu
single press - switch between the frequency measurement mode and the duty cycle, as well as the direction selection in the settings menu
10 - Ok / SELECT / V.F.C (blue button):
press once to activate the SELECT mode - select functions in the settings menu
pressing and holding turns on V.F.C - measurement mode with low-pass filters
Block with rotary switch and notation: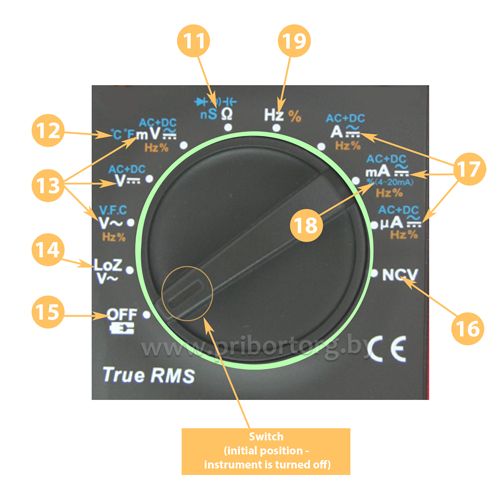 11 - rotary switch position:
- testing of diodes, continuity of the circuit, capacitance measurement
nS – measurement of electrical conductivity
 – resistance measurement
12 - rotary switch position:
° C ° F - temperature measurement
13 - rotary switch position:
V  - measurement of DC voltage
mV - measurement of DC voltage in millivolt
V - AC voltage measurement
mV - measurement of the AC voltage in millivolts
V.F.C V.F.C - LPF measurement (low pass filter)
14 - rotary switch position:
VLoZ - measurement of low-impedance AC voltage
15 - rotary switch position:
OFF - turn off the device
16 - rotary switch in position:
NCV - non-contact AC voltage detector
17 - rotary switch position:
µA - AC / DC power measurement in microampere
mA - measurement of AC / DC power in milliampere
A - AC / DC power measurement
18 - rotary switch position:
% (4 - 20 mA) - measurement of the current loop
19 - rotary switch position:
Hz - frequency measurement
% - fill factor measurement
Block with connectors for connecting probes:
Measuring probes are flexible insulated wires that serve as conductors from the device under test to the multimeter.
20 (a) - connector for the red test lead (plus) when measuring current up to 10 A maximum.
20 (b) - connector for the red test lead (plus) when measuring DC and AC power.
21 - connector for the black measuring щупа (минус) .
22 - connector for the thermocouple / red probe (plus) for measuring frequency, voltage, resistance, electrical capacitance, testing of diodes and continuity of the circuit.
As we see, the capabilities of modern multimeters are very extensive, and the simplicity and intuity of controls make this class of instruments a universal means of measuring the parameters of electrical signals. No doubt, such a device will become an indispensable assistant, both for a highly qualified specialist and for a radio enthusiast.